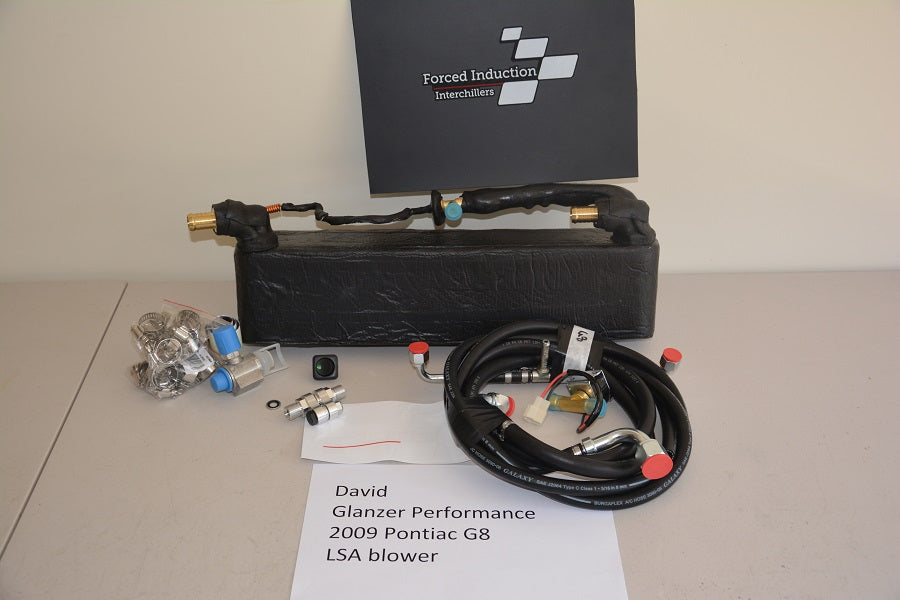 Forced Induction Interchiller w/ Comp Solenoid
Regular price $2,150.00 $1,850.00 Sale
In simple terms we are T-Piecing into the cars AC system and the refrigerant is being split 50/50 between the cabin AC and our interchiller. Our interchiller is made up of 2 channels each consisting of 20 plates. In the first channel your intercooler fluid flows through, in the second your AC, which supercools your intercooler fluid extremely cold as low as minus -15c (5F). The cabin AC is not affected, if anything it is colder than stock since we add a touch more gas to the system. You then have a car which will make more power, and it will be consistent. You can hot lap it at the drags without waiting as it will be back to freezing cold by the time you drive back, and your engine is also protected from pre ignition since it's running a colder intake charge.
Race Chiller is 18.5″ long. It is the largest chiller we can fit to the cars
This solenoid allows you to turn ON/OFF the AC supply to the cabin and dedicate all of the AC to the chiller only with a simple ON/OFF switch, so you can use the Interchiller system on a race track.